From a Beavercreek HS Varsity WInter Guard Press Release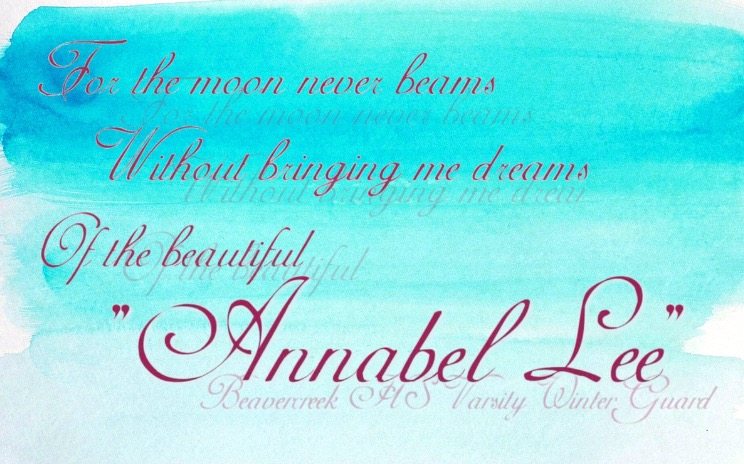 The Beavercreek High School Varsity Winter Guard from Beavercreek, OH is proud to present their 2017 program, "Annabel Lee." The 22 member cast has been hard at work developing their show based around the Edgar Allan Poe poem.
Written in 1849, "Annabel Lee" was the last complete poem Edgar Allan Poe ever wrote, but it was not released until shortly after his death. Our take on this poignant and melodramatic piece is inspired by the sombre beauty of Poe's retelling of the age-old tale of boundless love. We invite the audience to search beneath the surface of those words with us, in hopes of finding love in the dark depths of the sea.
With music edited by Baron Creutz, the show includes a voiceover of the original poem as well as a live version of "A Thousand Years" by The Piano Guys. Costumes designed by Byron Valentine and flags designed by Scott Winters from Fred J. Miller. Staff includes guard director Jonathan Gillman, assistant director Madeline Boone, choreographers Maggie Kilbourne and Sara Frederick, and designer Frank De La Rosa.
The 2017 Beavercreek High School Varsity Winter Guard will compete in the Mid East Performance Association in Scholastic A Class, as well as the WGI Indianapolis Regional and WGI World Championships!