By Kathryn Hardison
In a typical world, high school students live a very structured day-to-day: groggily wake up from alarm, where you've already hit "snooze" three times; throw on whatever clothes that are not sitting in the bottom of your closet; grab a Pop-Tart on your way out the door; sit in the morning traffic that you know will always be there, but are somehow always surprised by; create your own parking spot in the back of the parking lot because you're so late that you really don't care; walk into your classroom as the bell rings; and then play the game of high school until 3 PM when you're free from the laws that bind you to that loud, old building. This is what typical high school students experience on a daily basis, but not Emilio Senacaut.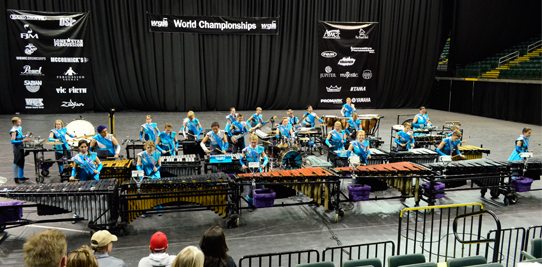 Emilio Senacaut, a junior rack performer for the Dakota Ridge High School Concert Open ensemble, attends not only high school, but also the Warren Tech Trade School everyday. Colorado's Warren Tech Trade School offers credit for high school graduation, as well as community college credit, apprenticeships, on-the-job experiences, and industry certifications. The school is focused on the STEM program (science, technology, engineering, and math). Senacaut explained that he is constantly experiencing opportunities and lessons through the school that he would never experience in a typical high school.
"We have everything from robotics to construction," Senacaut described, "as well as a shop class, farming, architecture, and 3D printing." Senacaut has the opportunity to practice all of the aspects of the STEM curriculum and is given hands-on experience that most high school students only dream of having. Senacaut explained that he and his peers are building their own classroom, which is not only a project in itself, but also a wonderful experience that he will remember for the rest of his life. Senacaut has been attending Warren Tech since the beginning of his junior year, and will continue his education there until he graduates high school. When asked what he plans to pursue after graduation, Senacaut was unsure because he enjoys so much that the program offers. Through his classroom building project, he has discovered a fondness of construction.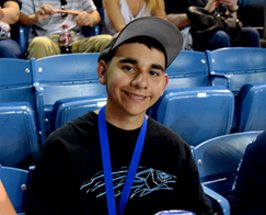 In addition to attending Warren Tech, Senacaut is also a high school student and a member of the Dakota Ridge High School Concert Ensemble, which competes in the Scholastic Open class in WGI. Senacaut attends the trade school in the morning and high school in the afternoon, allowing him to make the best of both worlds. His time at Warren Tech never interferes with his commitment to his ensemble. Senacaut's favorite aspect of "normal" high school is being in the band. He explained, "I started in sports and I felt like an outcast. So after I joined band, I started feeling more comfortable and I found where I could use my talents." Senacaut enjoys playing the trombone in his symphonic band, and was proud to announce that his band received 2-ratings at their state competition. The camaraderie that he experiences in band has positively influenced his life at Warren Tech and his concert ensemble.
Juggling his life as a normal high school student, his participation in his concert open ensemble, and his education at Warren Tech, has greatly impacted his personality and his dedication to everything in his life. Whatever Senacaut pursues after graduation, he knows will be greatly influenced by his years at Warren Tech and his membership in his high school ensemble.
---
About the Author: Kathryn Hardison is a journalism student at the University of Missouri. Her focus is on convergence news reporting and she plans to earn a minor in politicalscience. Prior to college, Kathryn went to Kickapoo High School in Springfield, Missouri, where she found her love for marching the flute in the fall and playing the cymbals for the Kickapoo Indoor Drumline. During her four years in marching band, Kathryn competed with the Kickapoo Golden Arrow Marching Band, of which she later became the flute soloist and a junior and senior flute section leader. Kathryn's career in the Kickapoo Indoor Drumline included a promotion to Percussion Scholastic Open class and placing 8th in WGI World Championship Finals. After college, Kathryn hopes to become a foreign correspondent for the Middle East.