Upcoming Color Guard Webinars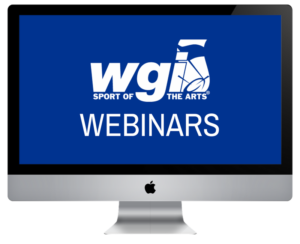 The Color Guard Steering Committee is hosting its next webinar on Wednesday, January 24th at 9PM EST/ 6PM PST.
"Starting the Competitive Season & The First Regionals"
This is our yearly 'primer' on going to your first WGI Regional! Dale Powers will have a brief discussion on Regional Logistics. Steering Committee A & Open Rep Brian Giddens will present an early-season discussion on The 4 Whats:
What is Necessary?
What is Possible?
What is Wise?
What is Next?

We would like to encourage these events to be as much a discussion as a presentation, so have questions ready! All questions are welcomed!
Please register for Color Guard Educational Webinar Series #3 on Jan 24, 2018 9:00 PM EST at:
https://attendee.gotowebinar.com/register/1112367504970366723.
---
Upcoming Percussion Webinars
The Percussion Community Webinar Series will have five events this season. These webinars will be a great place for us to discuss all things indoor percussion. Each session will feature a special guest and an opportunity for you to ask about whatever is on your mind. Make plans to join us live whenever your schedule allows.
Thursday, February 8, 2018 – Special Guest Ike Jackson (Ayala HS)
Thursday, March 1, 2018 – Special Guest Rob Ferguson (Matrix)
Thursday, March 22, 2018 – Special Guest John Campese (Infinity)
Thursday, April, 5, 2018 – Special Guest Mike Jackson (Broken City)
If you can't attend live, recordings of each session will be made available in the Resources section of the WGI website.
Please use the link below to register for this series of webinars so that you'll get automatic reminders and be able to tune in live:
https://register.gotowebinar.com/register/4749937898412083202.