By Christine Ngeo Katzman
Three directors from Scholastic World Class groups in WGI's competitive percussion concert class relay the benefits of the activity and their tips for success.
For more than 25 years, the Tunstall Concert Ensemble (TCE) from Danville, Virginia, has participated in the WGI percussion concert activity; the group has advanced to finals 20 times and medaled in eight of those years. Fishers (Indiana) High School offers both concert and marching winter percussion to provide students with varied experiences; its concert group won gold in 2018 and 2019. And relative newcomer North Forney (Texas) High School Percussion Ensemble, which began competing in WGI in 2018, shot to the top quickly with a silver medal finish in 2019 and a finalist position in the 2021 virtual season. In addition, North Forney was selected as a 2020 Percussive Arts Society International Percussion Ensemble Competition winner and performed at The Midwest Clinic International Band and Orchestra Conference in 2021.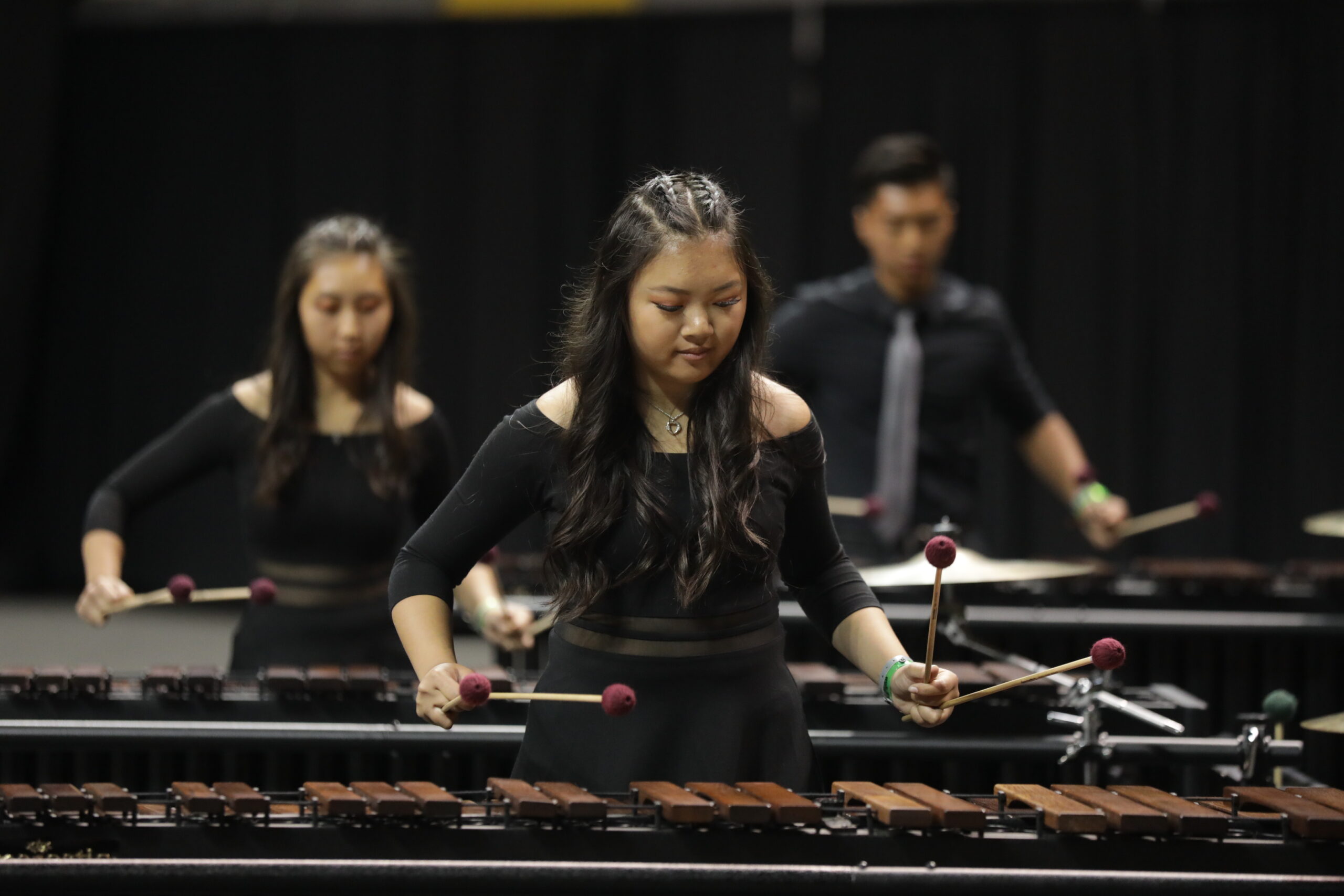 More Focus on the Music
Though often overlooked, WGI's competitive percussion concert class allows scholastic groups to perform standstill shows at Regional A, A, Open, and World levels and is an essential activity for participating ensembles.
According to the three World-Class directors, the concert class allows ensembles to focus solely on music. "Our group is often made up of first-year percussionists, including those who transition from the horn line, guard, etc.," says Tim Bray, director of TCE. "The concert class allows us to focus solely on music performance and not the movement or visual aspects. This additional time applied only to music allows us to advance more as musicians instead of trying to balance all of the various aspects of the marching class."
Jim Gist, director of bands at North Forney High School, agrees. "We choose to participate in the concert class because it allows us to focus more on performing music without the obligation of the marching component, which can divide our time and resources. I value the way [that] I can focus on developing the [students'] musicianship, which transfers to other areas of our program."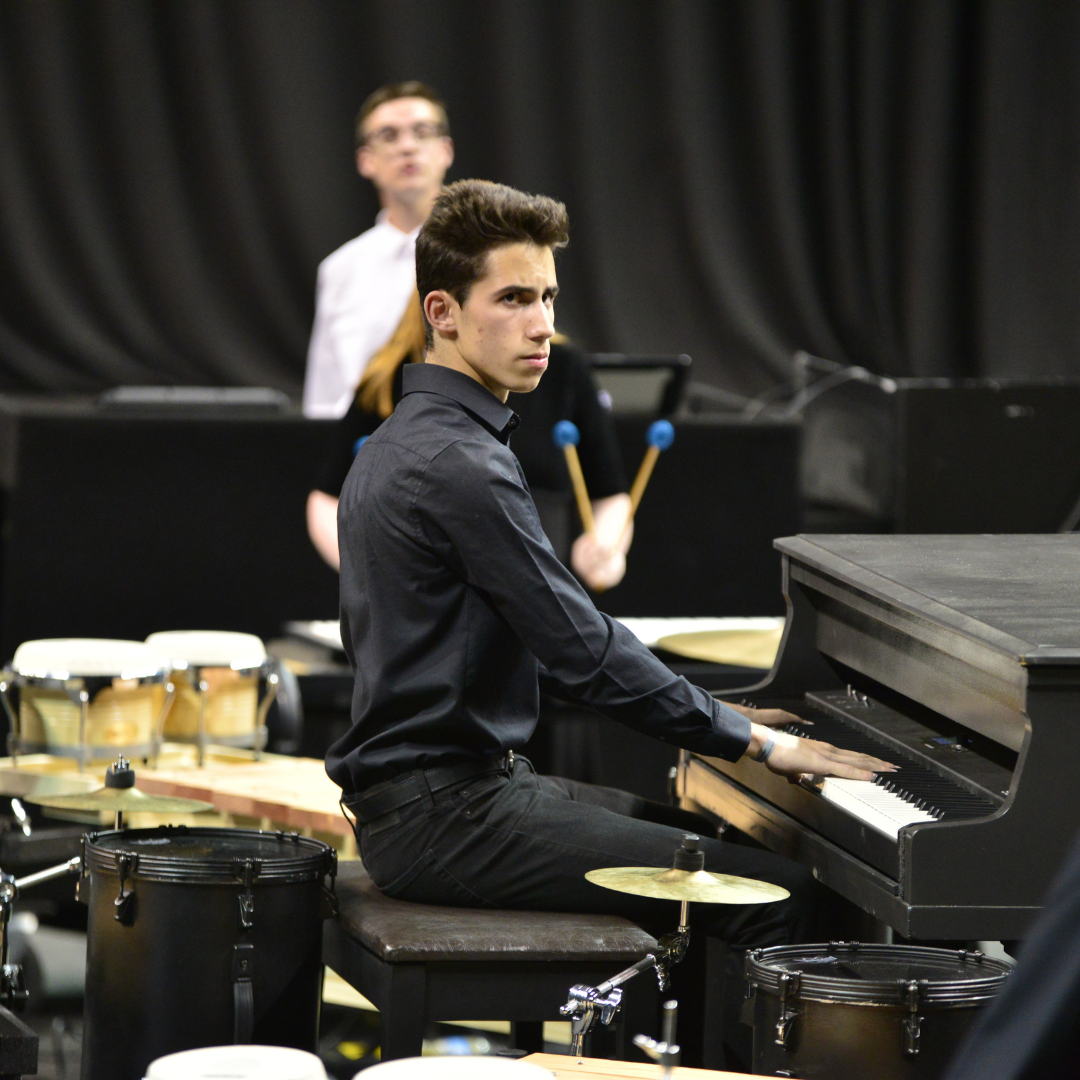 At Fishers High School, participants in competitive winter percussion can enroll in concert class only or both concert and marching class. "We choose to participate in concert class in addition to marching class because I want my students to be well-rounded and not just to experience the marching realm," says Chad Kohler, director of athletic bands.
In addition, concert class removes barriers to entry. "We are a small school in a rural community with a limited budget, staff, and student population," Bray says. "It doesn't matter that we can't afford fancy props or uniforms. Of course, there's also the fact that we only have one gym in our school and rarely get in there to rehearse, making a marching ensemble nearly impossible."
Individual participation fees are often lower for students in concert class. "The WGI concert class allows our students to compete and grow as musicians cost-effectively," Gist says.
Though all three groups also enter competitions with regional circuits, the WGI experience provides opportunities to see high-caliber groups across the country. "Watching, listening to, and learning from the outstanding programs that participate in WGI provides the inspiration needed to continue to improve," Bray says. "Performing alongside the programs taught by the best instructors, receiving commentary from the best adjudicators in the country, and playing in the best arenas [are] an absolute dream come true."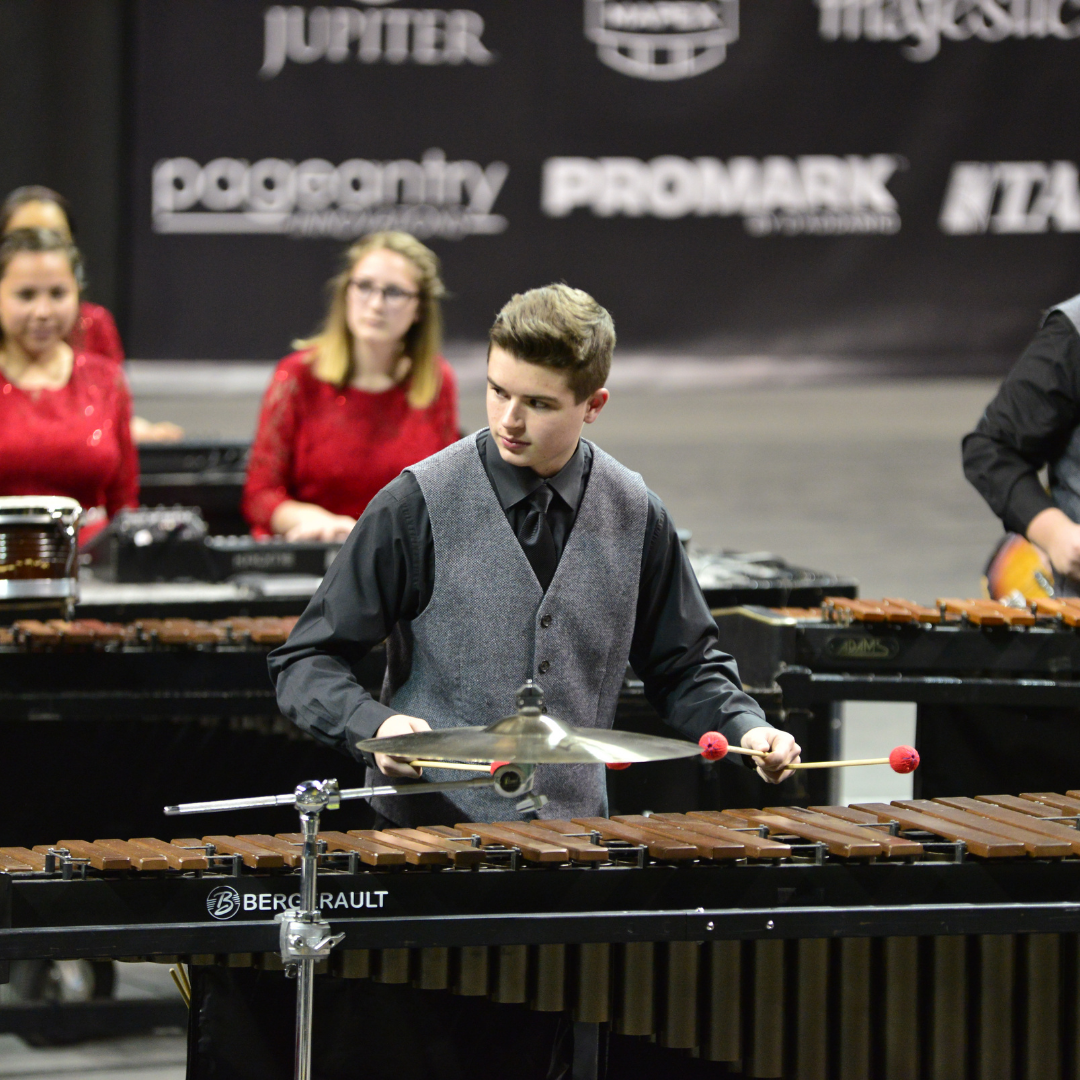 A Tale and a Journey
Similar to the marching activity and different from traditional concert band or percussion ensemble, the concert class hosted by various circuits allows groups to present a musical story, often with their own unique twists.
"We have designed theme shows that told stories or paid tributes and shows that were already a complete work of art," Bray says. For example, past TCE shows include "Phantom of the Opera" by Andrew Lloyd Webber, "Miss Saigon" by Claude-Michel Schönberg, "Ballet for Martha" by Aaron Copland, and "The Planets" by Gustav Holst.
TCE has also weaved together various pieces of music to create its production or performed original compositions. "Our 2020 show explored the history of the concert class and displayed the styles and changes in compositions through the years," Bray says.
For 2022, TCE will focus on American composers. "A select number of pieces will fuse together to celebrate American genius," Bray says. "Of course, they will have the TCE twist and be a little 'wigged out.'"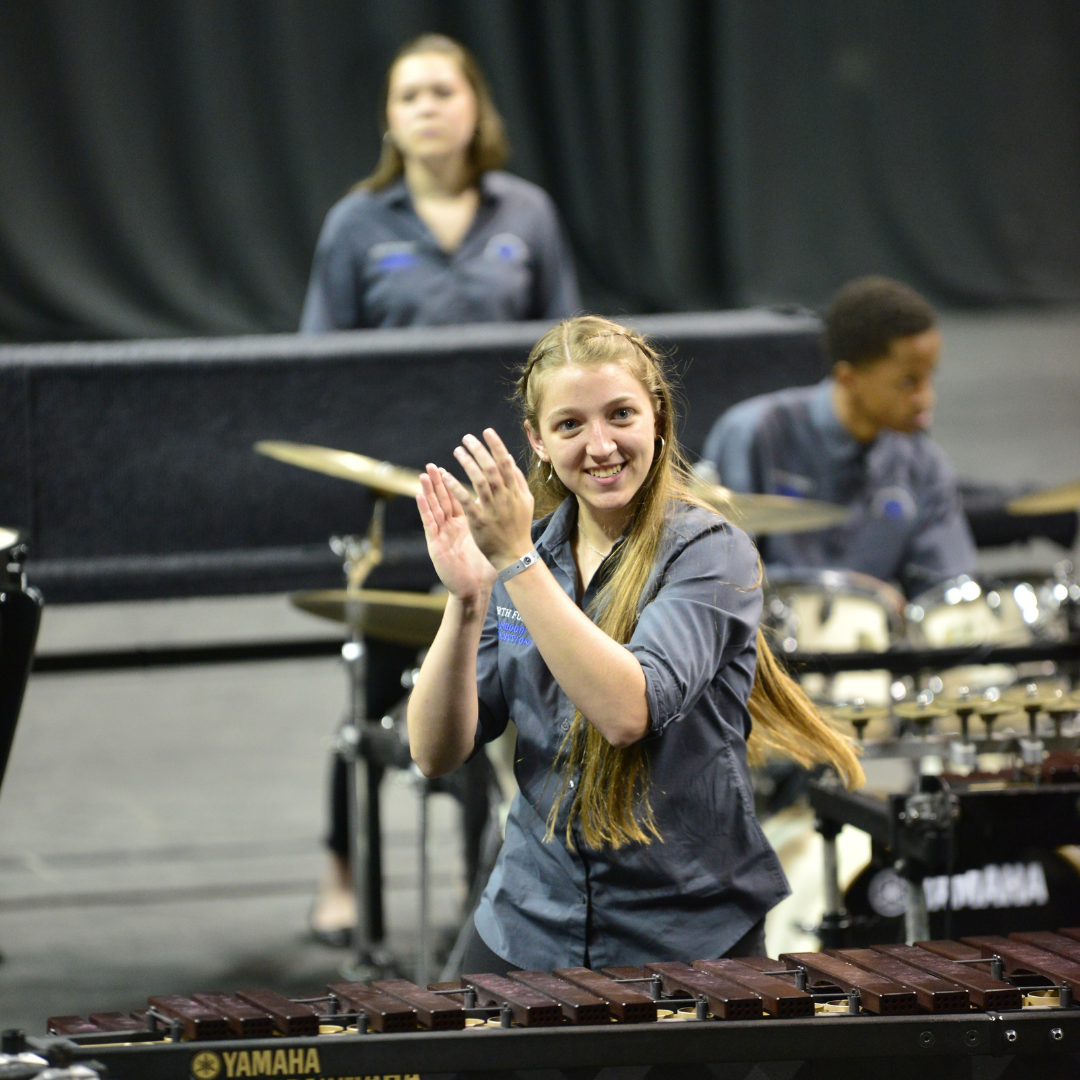 Fishers' 2022 show, titled "The Essence of Time," reflects how the past two years of dealing with the COVID-19 pandemic "have been nothing but unknown," Kohler says. In general, Kohler says that he looks for repertoire that "emotes emotions and creates great pacing."
"I know that [judges] are looking for a musical journey with many highs and lows," Kohler adds. "In addition, we tend to design the show to elicit feedback from the intellectual, cerebral and aesthetic [senses]."
North Forney will perform "The End of Days," as told in the Bible's Book of Revelation, for its 2022 season. Arranged by Gist, the program includes Modest Mussorgsky's "Night on Bald Mountain" and transitions to Jacob Remington's "Prelude to Paradise," with the finale being Gustav Mahler's "Symphony No. 2, Movement 5 (Resurrection)." "Victorious scenes of redemption and the final judgment as described in Revelations can all be heard and felt through the musical imagery," Gist says.
While the classical genre has heavily influenced concert class shows, Bray says that designers should let their creativity flow. "One of the greatest things about the concert class is there is no limit on what you can expose your students to as long as you design and perform with the overall journey in mind," Bray says.
Words of Wisdom
Kohler offers the following advice to directors of concert class groups. "Let this realm be emotionally pleasing and aesthetic to the ear," he says. "We hear enough rim shots … within the marching realm."
Gist encourages directors to involve students in the design of the shows. "I have found that involving the students in every aspect of the process increases the engagement and commitment of the students to the execution of the show at a high level," he says.
Overall, the competitive concert class offers a unique way to advance percussion abilities. "The concert activity provides the opportunity for tremendous growth within the ensemble for both students and staff," Bray says. "Aim high and strive for excellence. Don't settle for mediocrity. Pay attention to the details; it's all about the details."
About the Author:
Christine Ngeo Katzman is the founder and chief executive officer of Muse Media, LLC, creator of books, magazines, and additional content highlighting performing arts and youth activities. Christine is publisher and editor-in-chief for Halftime Magazine, a publication for marching arts participants and fans, and managing editor for Yamaha SupportED Magazine, a publication sponsored by Yamaha Corporation of America for K through 12 instrumental educators. Christine graduated from Northwestern University with a bachelor's degree in journalism in 1997 and earned an MBA from the University of Southern California in 2007. While at Northwestern, she marched in the Northwestern University Marching Band, including the 1996 Rose Bowl and 1997 Citrus Bowl.