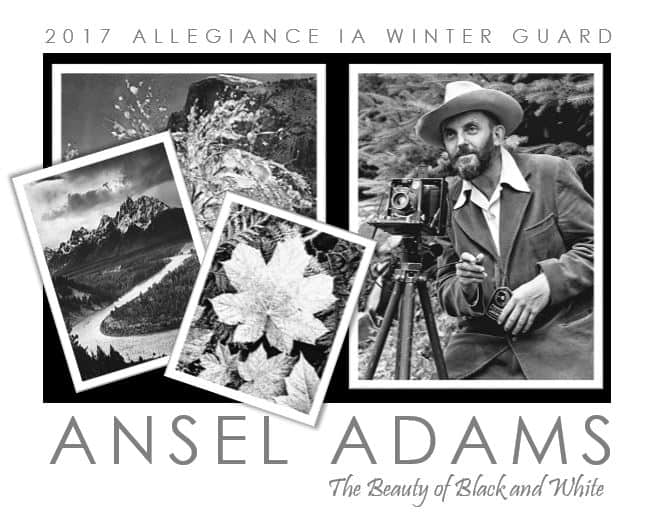 From an Allegiance Press Release
Ansel Adams, an American photographer, musician, and environmentalist, was highly regarded as one of the most important black and white photographers of all time, particularly in reference to his iconic landscape images of the American West. Join us as we embark on a photographic journey of Adams' most brilliant and breathtaking images with our 2017 production, "Ansel Adams: The Beauty of Black and White".
The 19 talented members of Allegiance will perform locally in the Midwest Color Guard Circuit, as well as nationally at the WGI Indianapolis Regional, WGI Flint Regional, and WGI World Championships in Dayton, Ohio. Staff includes Eric Hall (director/show designer), Cami Janzen-Guare (asst director), Don Wiles (asst director), Kyra Vought, Dale Robison, Lexy Albaugh, Tiffany Culver, Hannah Cholewinski, Julia Link, Kirsten Miller, and Tim Miller.
"Perhaps music is the most expressive of the arts. However, as a photographer, I believe that creative photography when practiced in terms of its inherent qualities, may also reveal endless horizons of meaning." — Ansel Adams