By Alex Mendoza
Amidst the backdrop of the University of Dayton parking lot, the members of the 2013 Foothill High School Percussion Ensemble prepare for their final performance of the competitive season. Members scurry in between rehearsal sets to keep their hands warm; a task that finds itself at extreme odds with the unpredictable nature of the cold winds sweeping in and out of the expansive parking lot.
A staff member's voice speaks over a sudden gust of wind:
"Alright, here we go. Same phrase please."
The metronome sparks to life, the ensemble's focus drawn for eight clicks.
Dut, dut, dut, dut!
A rim shot initiates the start of the phrase. The battery propels westward in a tight-knit formation, cycling through various rhythmic phrases with controlled precision. Only a few feet away, the front ensemble provides a dissonant interpretation of the battery's commanding energy: sharp, vertical mallet strokes designated to heighten the rhythmic tension.
Thirty-two counts later, the ensemble comes to a halt.
"Reset."
This routine continues for five minutes, and in spite of the piercing gusts of cold wind, the ensemble moves in harmony. Their actions and their thoughts conditioned by countless hours of rehearsal, with one goal in mind:
To achieve at the highest level possible – together.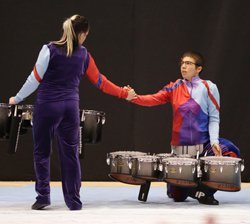 "Working together is one of those elements that goes hand-in-hand with success," Nick Walters explains. He is the Associate Director of Bands at Foothill High School, as well as the Director of Percussion. "And with this year's show we wanted to do something that reflected the sense of family and support we've received from our community, so we decided that the title, 'Together', was the most appropriate representation of that idea."
Since their first appearance at the 2010 WGI Percussion World Championships, the city of Henderson, Nevada has worked closely with the ensemble in providing opportunities to perform for various events, as well as finding support and recognition from the city council as the first scholastic ensemble from Nevada to qualify for the WGI World Championship Finals bracket.
"I think another part of choosing this particular show idea had to do with the fact that I've seen a lot of productions with dark themes. Heavy stuff that already echoes a lot of what's happening in reality, so the primary goal for the design staff was to design a show that reflected on the positive traits the world has to offer."
This positivity revealed itself in the form of a visit to Foothill High School from the father of Josh Stevens, one of the founders of the Josh Stevens Foundation – an organization that thrives on rewarding the heartfelt acts of a child's kindness through the means of gift cards assigned to schools and youth programs participating within the campaign.
Their motto is simple: "Be kind."
Developing a show around this concept, however, would prove to have its fair share of challenges across the duration of the season.
"Trying to use any deep meaning, or expression, within a show can be difficult to teach to teenagers, because these ideas are developed by adults, and a production like this requires a level of emotional depth the members have yet to fully experience and understand, but this particular group consists of genuinely smart and polite individuals," Nick comments.
"But as the season comes closer to an end, they're finally starting to really understand what the show means to them personally."
Time edges closer towards their final performance, with flurries of icy wind sweeping across the field of black asphalt. This does not discourage the group of parents observing nearby, huddled together to maintain warmth near the equipment trailer. Some embedded with smiles on their faces, while others hope to retreat within the warm embrace inside the UD Arena, away from the menacing gray clouds suffocating the evening sky.
For Henderson, NV Mayor Andy Hafen, it is a mixture of both, as he stands off to the side and enjoys the sights and sounds of the group, although witnessing this type of routine is nothing new. He has maintained a close relationship with the ensemble after awarding them with a certificate following their return from WGI Championships in 2010. He intended to travel with the group in 2012, but his busy schedule did not permit for such an opportunity.
This year, however, he made every effort to set aside time that would allow him to travel with the members for their fourth WGI World Championships appearance, and he is more than eager to share his kind words.
"I'm so proud of these young adults, the staff and the parents, because they're really giving it their all. And that's what this is all about, right? Giving it your all, staying focused and representing your school, your children and your community," he says.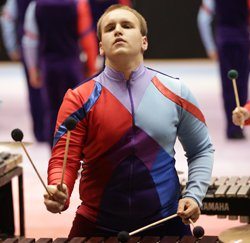 "I would encourage all mayors of all communities, all commissioners and all city council members to come to these events, and support these young men and young women. It's just an awesome, awesome experience that WGI is providing year after year, inspiring young people to strive for excellence."
Eventually the ensemble makes the final trek towards the arena, hints of their breath escaping into the frigid air, and evaporating under the tungsten-colored streetlights speckled across the parking lot. Anyone would find it hard pressed to avoid shivering uncontrollably, but the ensemble appears determined. They have tirelessly worked for this very moment in time, ready to embrace it for all its worth, and this decisive approach towards the UD Arena represents a rite of passage.
One that marks the end of another competitive season.
Yet, for stories of this particular nature, the final score rarely obscures the overall experience, unable to overshadow the countless memories that the ensemble has developed as a cohesive unit, along with the passionate support of an influential political figure from their own city.
"There is a lot of negativity in this country about young people. But if these same people could come out and see events like this, that negativity would cease to exist, because music is so important. Especially when you see all of these young men and women who represent their communities. They're so focused and they're so committed. It just makes them that much better as people," Mayor Hafen adds before the ensemble takes the floor for one last time.
"Rest assured: this country is in good hands with this upcoming generation."