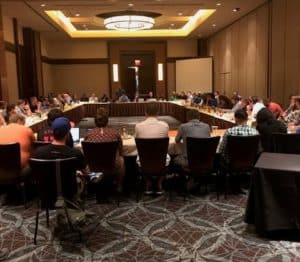 This year's Color Guard, Percussion, and Winds Advisory Board Meetings have been set for May 18-19 in Las Vegas, Nevada. The purpose of these annual meetings is for each advisory board to vote on the rules and policies that govern WGI as well as the election of individuals to division steering committees and the WGI Board of Directors.
Each advisory board is comprised of one representative from each of the Independent and Scholastic World finalists and the top five finalists from all other classes of competition at the preceding World Championships for the term of one year. For groups from outside North America, the term is two years.
Any color guard, percussion ensemble, or winds group participating in any WGI event in 2018 may submit rule or policy proposals for consideration. Proposals will be published on WGI.org prior to the meetings for review, then voted upon by the appropriate advisory board.
Forms to submit proposals are now available online (links below). The deadline for submission will be Thursday, May 10. Please be sure your proposal is clear and complete. The author of any proposal is invited to attend the meeting to speak about your proposal to the advisory board(s). For more information on attending the advisory board meetings, contact the WGI Office.
Please direct any questions about submitting a proposal to Director of Color Guard, Dale Powers, Director of Percussion, Mark Thurston, or Director of Winds, Wayne Markworth.
Color Guard Proposal Form
Percussion Proposal Form