Last week, Lynn Lindstrom's contemporaries, some of her colleagues who worked with her during Winter Guard International's early years, shared their thoughts and tributes. (Click here to see Part 1) Today, designers and directors, colleagues from the percussion movement, and fellow administrators offer their remembrances.
The Designers and Directors
Santa Clara Vanguard Winter Guard Director Denise Bonfiglio (HOF 2000) met Lynn during the very early years of WGI. "I was young in my own personal career and struggled with being a woman in management in an industry that was heavily male dominated. I spent time talking to Lynn about women in management, I watched her intently as she would run board meetings at WGI, make major decisions, direct many people on running events, and be at her proudest moments when handing out medals.
"She was a trailblazer in her time, taking on the vast job of creating, running, and growing Winter Guard International. Lynn taught me about persistency, hard work, passion, and how to be heard.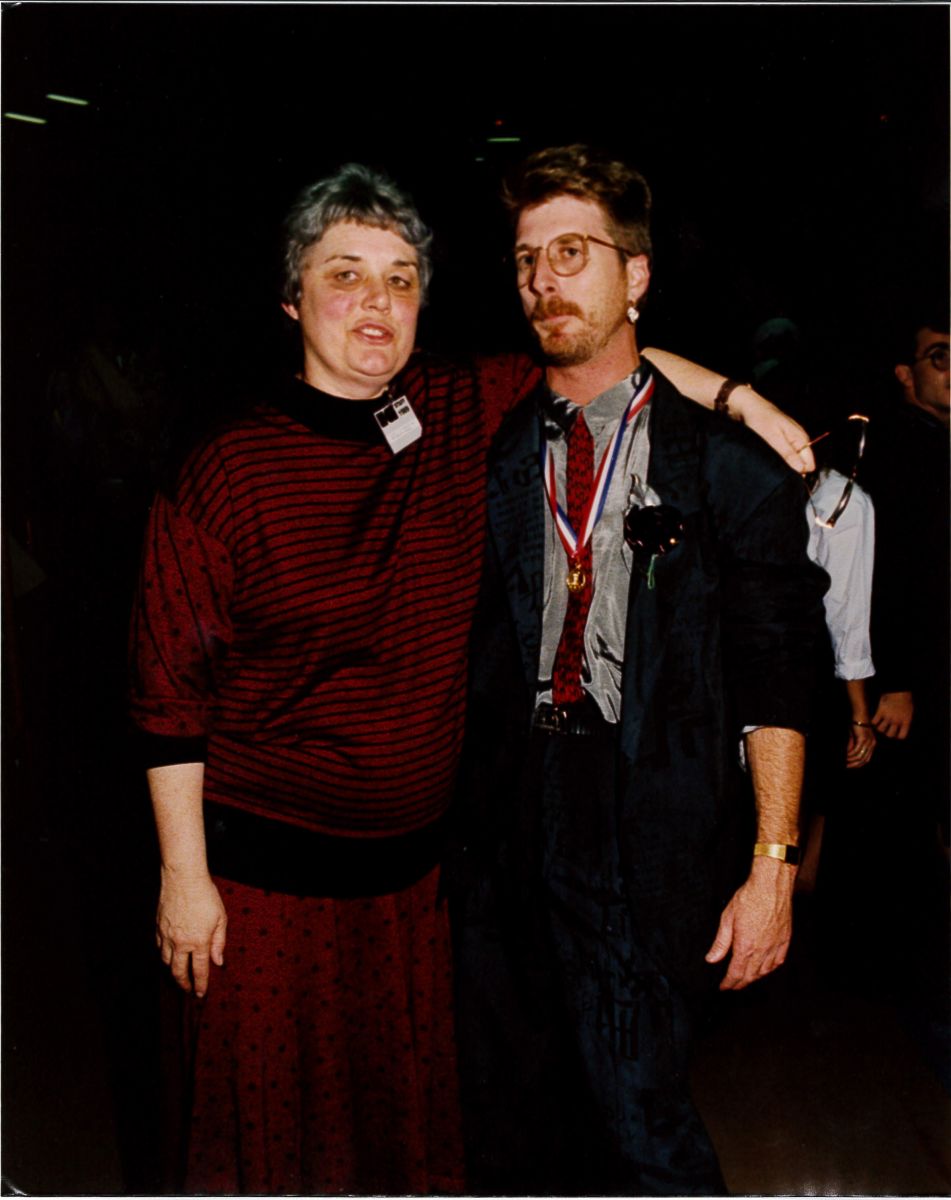 "Lynn always had the performers at heart; all that she did, her focus was always to ultimately make a very special experience for everyone that participated at a WGI event. This is still the cornerstone that separates WGI from other pageantry activities, it was Lynn's vision, and her heart."
Designer Scott Chandler(HOF 1997) remembers WGI's early years as "a gathering of relatives from around the country — and even the world — coming together as afamilial celebration ofcolor guard and competition. Lynn Lindstrom could easily be considered the matriarch of this remarkable pageantry family. Her knowledge and encouragement expanded the activity and for so many of us, our involvement within it."
"I remember someone — maybe even Lynn herself — saying that WGI's inaugural president sewed the very first championship flag for the 1980 Championships." Jeff Namian (HOF 2003), said it was like a real-life truth or dare. "So naturally after that, nicknames like Lynn Ross or Betsy Lindstrom were a dime a dozen. Lynn in a bonnet. Lynn wearing a thimble. Oh it was endless.
"If it's true (and it is, as you will read below) somewhere in Massachusetts there's a very sturdy flag that will never fray or need a stitch!
Surely Lynn knew "how many lives she touched and how many memories she inspired."
Lynn was a "doodler," remembers former Board President Randy Nelson (HOF 2007). "In endless meetings I would watch Lynn 'doodle' on a piece of paper as we went on and on about things. When the paper became full of her 'artwork,' we were usually treated to one of her famous 'you people' speeches that always seemed to bring us to a better decision."
"Lynn was a pioneer in the pageantry arts world. For me, she was a mentor and an inspirational friend," wrote designer and director Sal Salas (HOF 1993) "She taught me many lessons and was always nurturing.
"She believed in the instructors and the students – always there to cheer them on!"
Designer Michael Dorangrichia always felt like a member of Lynn's family. From teaching the Racine Kilts' rifle line the Highland fling in the mid-70s, to being a mentor in his early years as a color guard designer, "Lynn treated me like I was part of her family. She was like a mother to me; in fact, other than my own mother, Lynn was the most influential woman in my life.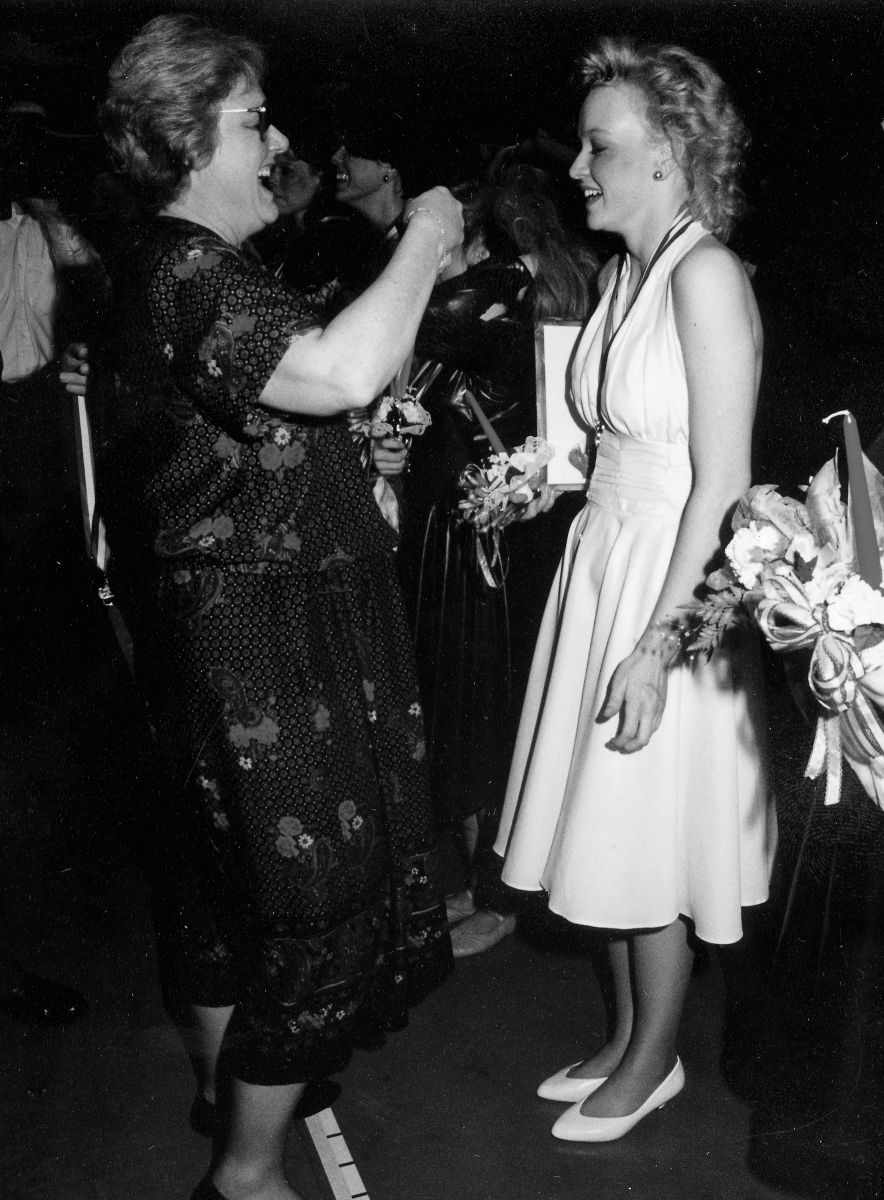 "I was so glad to have the opportunity to see Lynn at WGI each year. What a great feeling of having your mentor, your second mom, present the 1983 bronze metal to Quasar, the 1985 gold medal to Erte, and the 1987 bronze metal to St. Anthony's, all guards I instructed. PRICELESS."
Michael also brought Jeff Namian's "truth or dare" to life. "In 1980, Lynn decided to make the WGI Championship flag herself and I got to help her create it. She cut out the letters and I traced the Olympic rings for the flag using her dinner plates. I was so proud to see that completed flag, and the memories that went with it, being presented to the Phantom Regiment."
The Percussion Movement
Dennis DeLucia (HOF 2006) stated: "Lynn was one of the pioneers whose creative foresight gave us WGI, as the foundation for winter color guard. Lynn and (her husband) George together gave us WGI Percussion, which has enabled thousands of participants, judges, managers and fans to explore and enjoy the world of music and motion in the most unique art form anywhere."
"Words are sometimes hard to find when a person whose dedication to their mission is larger than life," wrote WGI Percussion Director Mark Thurston (HOF 2006). "Lynn led by example and was determined to make a difference to everyone she touched.
"Lynn's efforts have set a path for WGI Percussion that thousands of participants around the world enjoy today."
Former WGI Percussion Coordinator Andy Sanders (HOF 2010) was personal in his analogy. "When I heard of Lynn's death, I was staring at a rose picked from my garden. As the rose got older and changed colors in the vase, it became more beautiful. That was Lynn.
Lynn led a life that "my Grandfather taught me: till the ground, plant the seed, fertilize the plants, and sharpen the hoe to protect plants from the weeds. She and her friends started something that no one could have imagined.
"It wasn't only a garden of roses, it became a fertile, and expanding, field. She invited the 'Percussion Bees' in, as well.
"I will never forget her for the opportunity she gave me. She changed my life. I guess you could label me as one of the millions of roses in her field. She was a gardener, tilled the field, and asked us to take care of it. Then we all reaped the harvest."
Percussion designer Jim Wunderlich (HOF 2012) remembers Lynn's "incredibly strong and wise voice" in looking out for the best interests of the percussion movement. "I feel lucky to have been beside her, just to humbly listen and learn from someone who cared so much."
The Administrators
So many people remember that Lynn treated everyone like family. No more so than Brian Johnson, Site Manager of the Dayton Arena at Championships and also a Contest Administrator for Percussion, Color Guard and Winds. He remembered his first year as a volunteer in Dayton: 1993.
"I was very late to the volunteer meeting and Lynn had no idea I was coming. They did not have a room for me so Lynn said I could stay in that room. She pulled down the bed out of the wall and that was the start for me and WGI."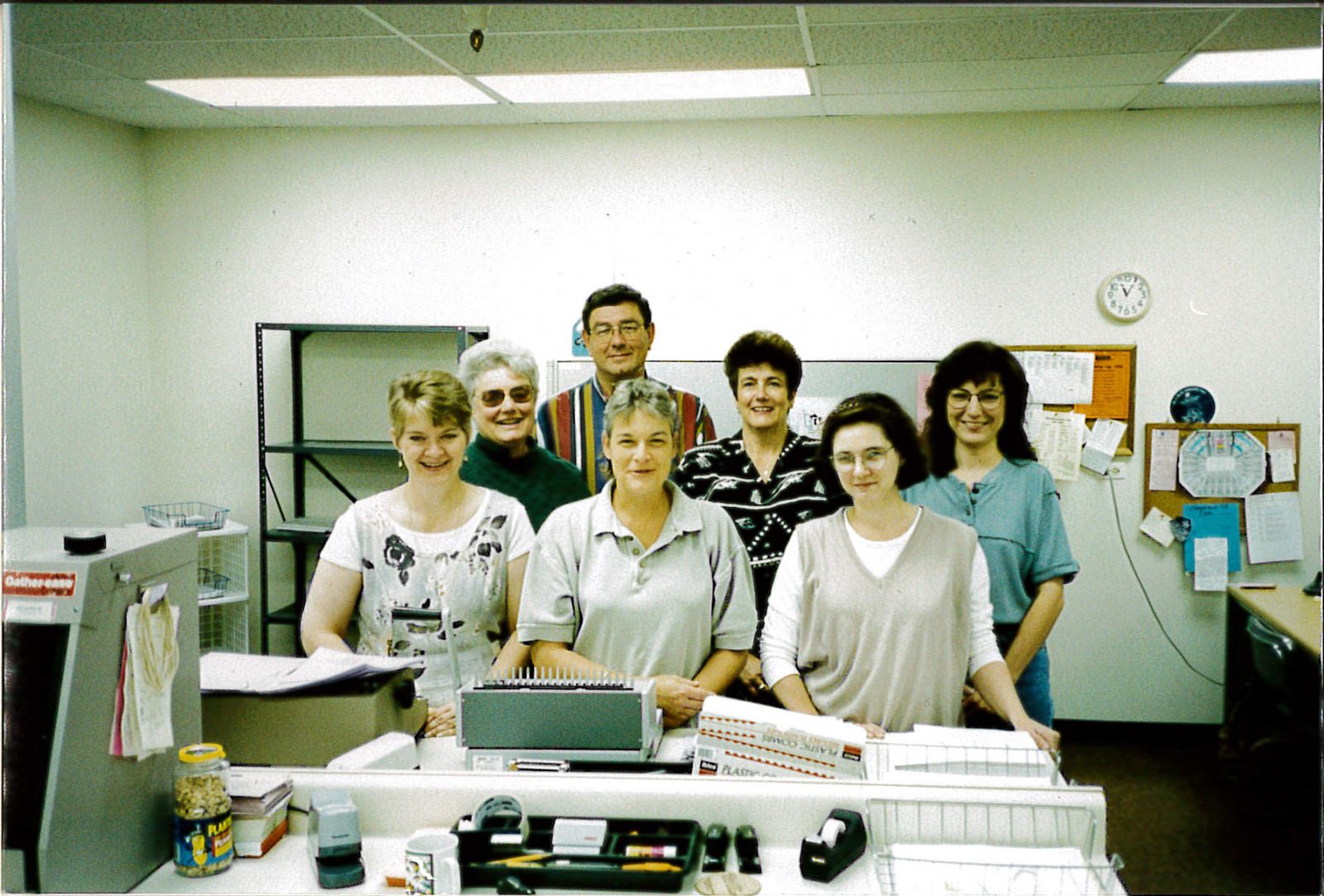 Tabulation Coordinator Russell Courtney's memories of Lynn and George were both personal and professional.
"Lynn heard that I had been laid off; she called me and asked if I had time to come to Colorado to implement some long overdue technology upgrades at the WGI Office. I went to Colorado and implemented a new server, created backups for disaster recovery and offsite storage purposes, and updated the desktop computers.
"Lynn checked on me several times a day, and over the four days we had chats about family, the activity, and my plans for a career. In the evening, over dinner George would coach me – both of them sharing lessons learned and wisdom gained over their careers.
"In IT, side projects always come up. Lynn asked me to look at five years of scores to see if any patterns could be uncovered in the data. I used some statistical analysis routines to show Lynn the patterns in data. Those patterns led to the justification for the old " Block Scores" – what we now call Qualifying Scores for Open and World Guards.
"Those four days were not about the activity; they were about friendship, family, life, and learning. The kindness that Lynn (and George) extended to me happened more than 15 years ago."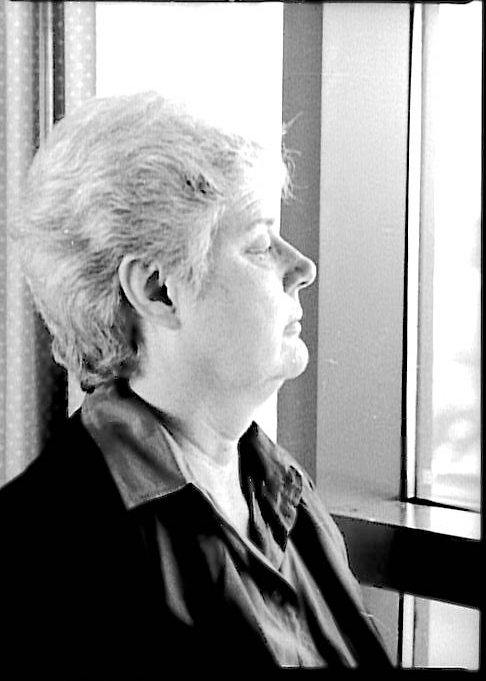 Kim Watts came for temp work with WGI and ended up working with Lynn for over a decade. "Lynn had a lasting influence on so many kids along the years, but I truly value what she did for MY children.
"As parents, we tell our kids that they can accomplish anything, but they may not always truly hear it. Lynn not only told them what they were capable of, she sat them down and showed them how to do it. She gave my girls office tasks that others would have thought not age appropriate and they succeeded."
Kim and her family remained friends with the Lindstroms, but she wistfully added: "I will miss answering the phone and hearing, 'Hey, lady, how are you?'"
Contest Administrator and Championships Volunteer Coordinator Jeanne Strong brought Kim into the fold: the Lindstrom home / WGI office. "The WGI office (aka Lindstrom basement) made for a lot of memories, as I sat in my office (the furnace room), where I listened, learned and grew as a person.
"One special day, I recall sitting around the break room (Lindstrom dining room) having lunch, when Dave Marvin brought 'Sport of the Arts' to the table and I brought egg salad. The phone rang; I jumped to answer it: 'WGI – Sport of the Arts, how can I help you?' There it was forever forward, WGI and Sport of the Arts were together."
Doris Wentland, WGI's first Publicity and Promotions Director was also a personal friend. "Lynn and I traveled, and roomed, together to take our guards to the Midwest Circuit Championships," she remembered. "Along the way we would dream of a national color guard circuit.
"Lynn had a Midwest approach to everything she did: she supported everyone around her, didn't get in the way of them doing their job, and said thank you for any help. But here's the main thing she didn't do: Lynn would never ask anyone to do something that she was not willing to do herself.
"That is why everyone loved her so much."
Lynn's Successor, Executive Director Ron Nankervis
"It's funny how you flash back to the moment when you first meet someone who will change your life.
"My friendship with Lynn Lindstrom began when I was an instructor sitting in the back of the room at board meetings counting the minutes till it was over. Culottes swishing, pen tucked behind her ear, she marched up to me and barked, 'I hear you have a background in finance and you need to run for treasurer.' It wasn't a request.
"Lynn had the gift of a natural leader; someone who gathers people united towards a common goal. It's no surprise that the core of today's world championship staff still are those she recruited decades ago. Even when the cancer that would eventually take her was at its worst, she made the rounds at UD Arena on her little scooter greeting the same people who have been coming to Dayton for over 20 years…all because of her.
"Her legacy will continue in hundreds of gymnasiums each Saturday night between January and April as future generations discovers what us older folks already know and love. And as WGI crosses continents these days, the full measure of Lynn's legacy will someday be known across the globe. She often shook her head in amazement when told of people in other countries wanting to be a part of WGI…all because of her.
"Since hearing the news of Lynn's passing, the words of Ralph Waldo Emerson have played a continual loop in my mind:
'To laugh often and much;
To win the respect of intelligent people and the affection of children;
To earn the appreciation of honest critics and endure the betrayal of false friends;
To appreciate beauty, to find the best in others;
To leave the world a bit better, whether by a healthy child, a garden patch, or a redeemed social condition;
To know even one life has breathed easier because you have lived.
This is to have succeeded.'
"By anyone's measure, she more than succeeded. We are all the better for having known Lynn Lindstrom and WGI is the organization it is today…all because of her."
— A special Thank You to former WGI Publicity and Promotions Director David G. Hill who provided editorial assistance.