By Kathryn Hardison
Some people took selfies, some participated in group pictures, a few "planked" and others stood with their arms stretched to the sky.
During the 2017 World Championships, lines formed outside of the University of Dayton arena as performers, staff and audience members waited to get their picture with the WGI statue.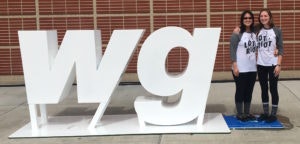 A new tradition, the WGI statue was created for the organization's 40th anniversary to remind everyone of why they love WGI, the Sport of the Arts, by becoming the "I" in WGI.
Most performers agreed that when they think of WGI, they think of a family. Not only do performers develop close relationships with their ensembles, but when they travel to Dayton, Ohio—from all areas across the country, and sometimes the world—they feel at home.
"You always feel included and you're never alone," Audrey Dou, a senior cymbal player for Salem Blue Devils Percussion, said. "It's just one big family – you meet strangers from everywhere across the country and you feel like you know each other. That's why I love WGI."
Jude Hodson, now a sophomore at Temple City High School, felt completely welcome during his first year at World Percussion Championships.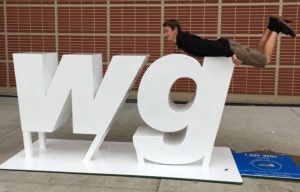 "I just love how (WGI) accepts everyone and everyone can do it," the drum set player said. "It's so fun, I can't wait to do it again."
Cheri Caggia, a then-senior marimba player for Green Hope High School, said she also feels included, but the WGI experience has helped her grow as a leader.
"It's given me a place to find my friends, to find what I love doing," Caggia said. "It's just been an incredible way for me to grow as a leader, as a person, and as a musician."
Caggia said she'd had such a positive experience in WGI that she was hopeful to be in an ensemble again after graduating from high school.
"It's incredible to be here with all these people who love this activity," Caggia said. "Hopefully I'll be back – that's the goal."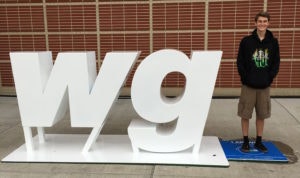 WGI performers, staff, and alumni have created several unspoken traditions over the years. From the drum circle, to kissing the tunnel pre-finals at UD Arena, to being present for the energy-packed world finals ceremony, WGI fans look forward to carrying out the traditions every year.
And now, the WGI statue has been adopted by the large family into its unspoken traditions.
Year after year, the WGI statue will be a place for members, staff, alumni, and fans to stop, take a picture, and reflect on why they love WGI Sport of the Arts.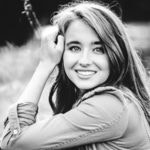 About the Author: Kathryn Hardison is a journalism student at the University of Missouri, majoring in news reporting and minoring in political science. Prior to college, Kathryn went to Kickapoo High School in Springfield, Missouri, where she marched the flute in the fall and played the cymbals for the Kickapoo Indoor Drumline. During her four years in marching band, Kathryn competed with the Kickapoo Golden Arrow Marching Band, of which she later became the flute soloist and junior and senior flute section leader. Kathryn's career in the Kickapoo Indoor Drumline included placing 8th in PSA World Championship finals in 2015 and a reclassification to PSO. After college, Kathryn plans to write for a newspaper.