By Michael Reed
The WGI Percussion World Championships has grown from 9 lines in 1993 to a record 225 ensembles who participated this past April. With the exponential growth comes a natural desire for performers and instructors to seek opportunities to see their World Class heroes up close, and to learn how the top units do things.
While the shows on the floor are spectacular displays of drumming at the highest level with theatrics that would be at home in Broadway or Las Vegas, another more intimate show-within-a-show has developed outside the arena. For many people, the place known as "The Lot" has become their favorite place to watch the lines.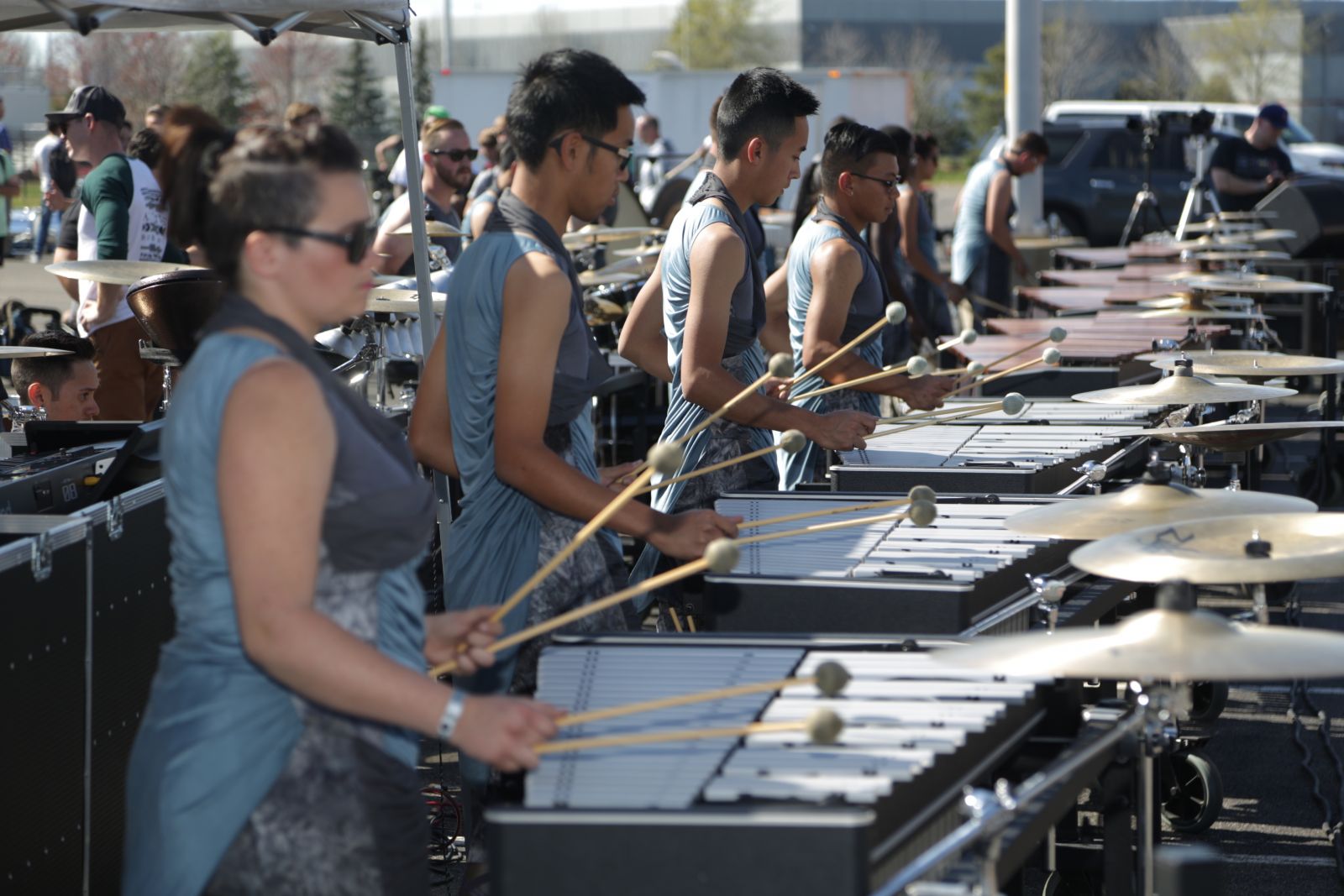 During the Independent World Semi-Finals, the lot was buzzing with activity as crowds formed around the lines getting ready for their indoor performances. Some people set up near specific lines. Others wandered from line to line to see as many groups as possible. A number of drummers appreciate the change to watch groups they never get to see at home. Michael Jung from California's Arcadia HS said "I have the opportunity to see all the east coast groups and it's really exciting."
How do the performers feel about having people watch them from just a few feet away? For Infinity's Michael Swain, "It's a lot more intimate. I feel like in the lot people let loose a little more, which makes it a lot more fun. I think that having a crowd out there almost prepares you even better for the show because it forces you to flip the switch and be in performance mode right away."
There are drummers who would rather see their comrades in the lot than in the arena. Noah Crawford of Saints Percussion said he prefers seeing groups outside because of "the vibe you get from the lot. There's a lot more going on. To me, it's more exciting than watching the actual show."
How can one have the best of both worlds between the lot and the shows inside? Ally Tylin of Leigh HS shared her strategy: "My plan is to watch all the lots on Semifinals day, and see all the shows on Finals day." Austin Bullock of Resistance Indoor shared his plan: "We have a schedule so we can see the groups we want to see outside, which groups we want to see inside, and time to go to the booths and meet other percussionists."
Finding out which line is where is easier these days. Matt Verburg of Lot Riot created maps with schedules which are available at their Exhibitor Tent booth. "It is nice to know who you're going to see instead of having to ask people or dig through logistical schedules. We distill all that information with a simple bird's eye view of the parking lot and if you want to go see your favorite group, you know where they are and when they are."
Verburg continued, encapsulating the lot experience. "I feel some of our truest performances are happening between the audience members who are also performers, and those performers who will later be an audience member. There is a raw energy. Things are louder and grittier. You see the sweat and the high fives and the hugs. You can whoop and holler in moments where in the show you may not feel comfortable, and that just makes it an exciting place."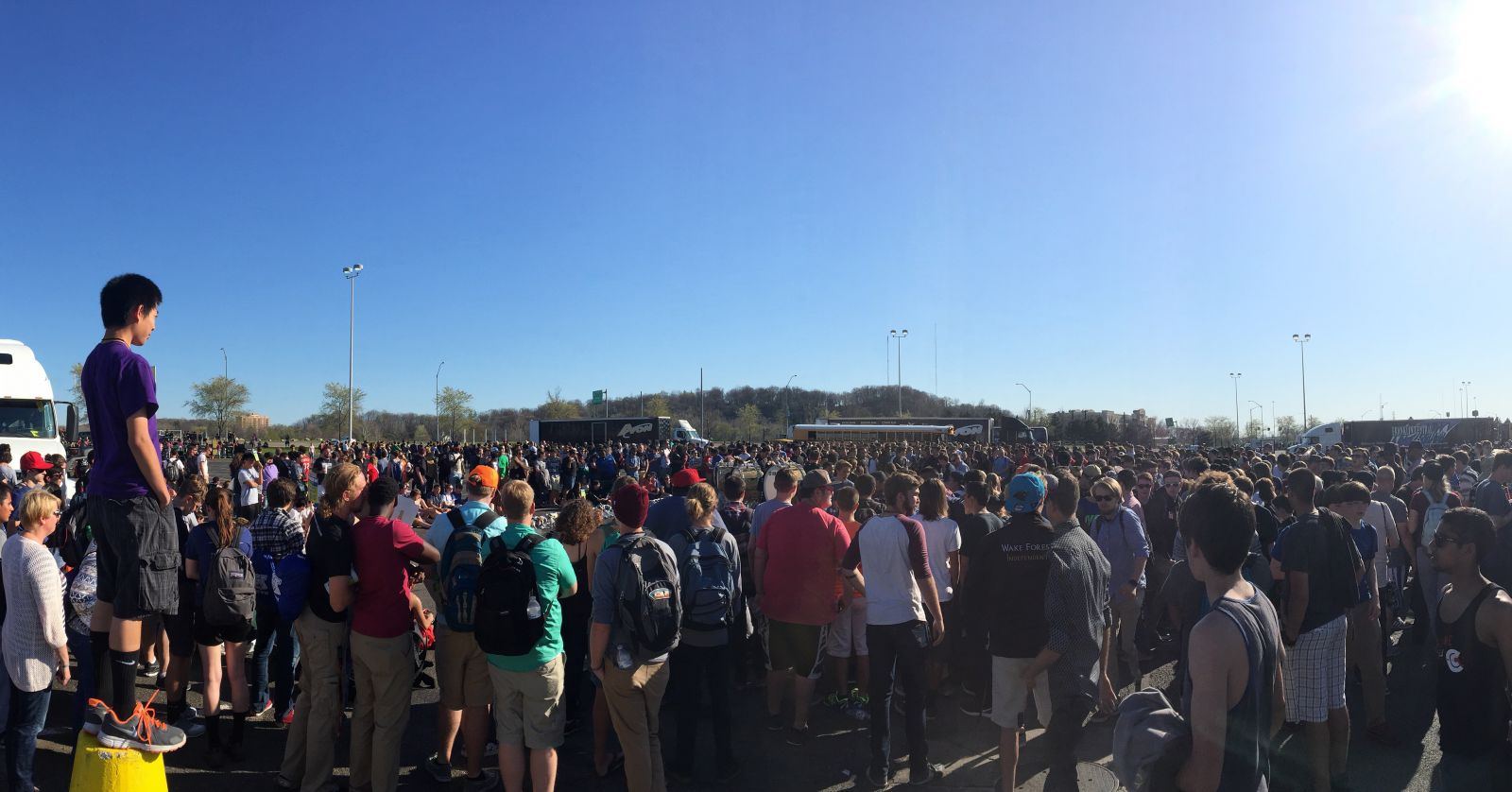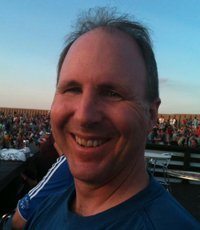 ---
About the Author: Michael Reed provides online and print media content for WGI, Bands of America, and Drum Corps International. 2016 marks his fifteenth year of writing for WGI. He is an active music arranger, composer, and all-around avid pageantry fan. Michael was a member of the Cavaliers Drum and Bugle Corps and holds a bachelor's degree in music composition and music education from Ball State University. He currently works in the health care field and resides in Fishers, Indiana.