When will registration for WGI Virtual events begin?
WGI will begin accepting entries on November 16, 2020.
How do "postmark dates" work in the Virtual Season?
There are no postmark rules, performance order preferences, or seeding for any Virtual Season events.  All events are random draw by the judge as evaluation is happening.
How will waitlists work in virtual Season?
Virtual Events do not have any maximum capacity of groups that can enter, so there will be no waitlists in the 2021 season.
Can groups sign up for multiple events?
Yes!  Separate registration processing will be required for each individual entry, but as a school or organization you can enter in various categories of the Virtual Season.
What is the cost for groups to participate?
Entry fee for Solos is $25, Small Ensembles $75, Groups $125, and E-Showcase $75. The entry fee is per virtual event. There is no additional cost should the group progress to semi-finals or finals. 
Is there a processing fee due this year?
No.  The typical $100 processing fee will not be applied during the 2021 Virtual Season.
How do I use a 2020 Credit Memo to pay for my virtual entries?
In the check-out process during registration for Small Ensembles, Group, and eShowcase one choice will be "apply credit memo" along with pay by credit card, and pay by check.  If there is any remaining balance after your virtual registration has been processed, WGI will write your group a check for that amount. Solos enter as individual people and will require credit card charge at the time of registration. 
When do entries close?
Because we know the conditions in schools and local areas are constantly changing, registrations will be accepted anytime from Nov 16th all the way up to the published registration deadline dates located in the charts below: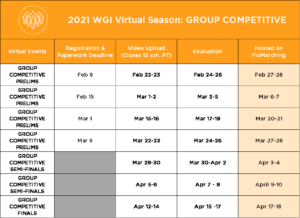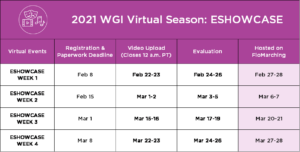 For more information click on the following link –