On the Wednesday leading into Percussion World Championships, the WGI community took a moment to honor three individuals who have been instrumental in the indoor marching arts: Tom Beresford, Tim Fairbanks, and Ike Jackson.
Master of ceremonies, Jim Dwyer, attempted to get "dirt" on the first inductee, Tom Beresford, but Tom is a real stand up guy. The only black mark against Tom's name is that "he uses more tape than any other Contest Administrator," stated Dale Powers, Director of Color Guard. Tom is known for being meticulous and extremely detail-oriented at all of the shows he runs. His priority is always the performers; making sure they have a flawless experience is most important to Tom.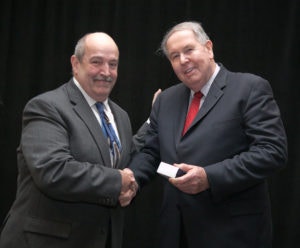 Tom's dear friend George Lindstrom had the honor of introducing him in a touching speech, commending Tom for his dedication to the organization and especially, the performers. As stated by many, Tom is passionate, sincere, dependable and loyal. When he's on the job, there is nothing to worry about. He does so well at making the activity run smoothly. Lindstrom ended by saying, "Tom is dedicated to the marching arts.
Born in Long Island, New York, Tom Beresford grew up marching percussion. He attended St. John's College and was a member of the United States Navy. Tom has worked with renown groups such as Holy Name Cadets, Sunrisers, St. Ignatius and Phantom Regiment Drum and Bugle Corps. He has held positions of Regional Director, Contest Administrator for Regional and World Championships for WGI as well as the President of the NCGA and being present at the meeting to organize WGI in the 1970's.
Tom shared a few words stating that he is in debt to many, especially Lynn and George Lindstrom. To him, it is an honor to be inducted alongside the other inductees, Ike and Tim. Throughout the years, he has been taught the support, respect, and love for WGI and states that this is one of his "most gratifying moments".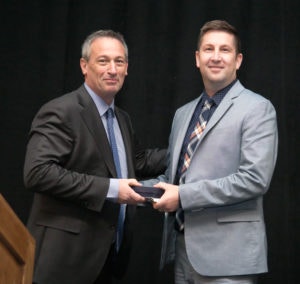 The second inductee, Tim Fairbanks has been recognized as a pioneer in marching percussion. He marched with Phantom Regiment Drum and Bugle Corps and now works primarily with Rhythm X and Centerville High School. In 1998, Tim brought Centerville High School to their first WGI Percussion World Championships and to win the Gold Medal just a year later in 1999. He has been recognized as one of the best visual designers of the age.
Tim's friend and colleague Andrew Markworth had the honor of introducing him. Markworth recounted his history with Tim beginning at Centerville High School when Markworth was a student, then later as co-workers. Markworth remembers how Tim came to Centerville HS and revolutionized the way they looked at indoor percussion. He stated Tim knew how to "instill a culture into a high school" where drumming became a way of life. Tim took risks; Markworth describe it as being like the "Wild West," which paid off. Fairbanks and Markworth became a close family, and Markworth stated that it is "never work, just fun" working with Tim. Many describe Tim as a risk taker, innovator, and the "idea guy." He has the great ability to coach and inspire students. He is not afraid to be different or try something new.
Tim had a chance to address the Hall of Fame guests. He thanked "everyone for everything, everywhere." He honored his parents and his wife, for whom he would not be here if it weren't for their love and support. As humbling a moment as it was, he said that most of the time these things are at the end of an era, but his best is yet to come. Tim stated that WGI is the best organization and he is forever grateful to be a part of it. Life could all be based off of the flip of a coin, and he will forever be thankful for the flip of his own coin so many years ago.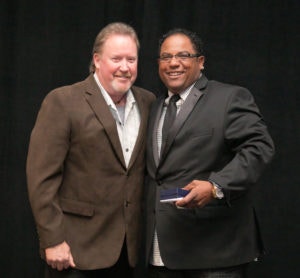 Considered one of the Founding Fathers of modern indoor percussion, Ike Jackson has revolutionized the way indoor marching is performed. He has performed with Riverside Community College and is a DCI Champion, marching with the Blue Devils Drum and Bugle Corps. He has taught at Ayala High School since 1991, and has been part of the only program to climb through the tiers of all 3 levels to medal, totaling a tremendous 21 medals, the most in WGI history.
Ike's dear friend and colleague Caleb Rolthe had the pleasure of introducing him as a WGI Hall of Fame Inductee. Caleb described Ike as passionate, a man of vision and even a genius for multi-media performance. He is willing to take risks and chances like no one else. Ike pushes the limits and comes up with something new every year. Ike has played a significant role in Caleb's life and states that he wouldn't be where he is without Ike.
After his introduction, Ike took the stand. He stated he never thought he'd be here because of the adversity and obstacles he has had to overcome. Marching percussion has taught him to not only read and write music, but to endure the most difficult times in his life. He said, "It teaches people like me to give back. We can change how people see and how people react with each other." Ike says that music has given him hope and vision to love one another in this amazing organization. He wants those without a strong support system to never give up and pursue their passion. He stated that this is one of the proudest moments of his life.
As we look forward to this year's Percussion World Championships, it is important to look back at those who have brought us to this moment. Some of the most forward-thinking and dedicated individuals are now honored as Hall of Fame members. These brilliant minds are still in their prime, making it clear that the activity's future is as bright as ever.
Congratulations to Tom Beresford, Tim Fairbanks, and Ike Jackson on your well-deserved induction into the 2018 WGI Hall of Fame.